Zones of Regulation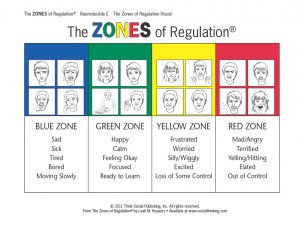 At Widney, we teach our pupils how to recognise their own emotions and provide them with the tools to self-regulate them. Staff also support children in recognising when they need help from an adult. Children have weekly lessons dedicated to zones of regulation, but it is referred to more throughout the week.
What are zones of regulation?
The zones of regulation is a curriculum geared toward helping children gain skills in consciously regulating their actions, which in turn leads to increased control and problem solving abilities.
Using a cognitive behaviour approach, the curriculum's learning activities are designed to help children recognise when they are in different states called 'zones', with each of the four zones represented by a different colour. In the activities, children also learn how to use strategies or tools to stay in a zone or move from one to another. Children explore calming techniques, cognitive strategies, and sensory supports so they will have a toolbox of methods to use to move between zones.
To deepen children's understanding of how to self regulate, the lessons set out to teach children these skills: how to read other's facial expressions and recognise a broader range of emotions, perspectives about how others see and react to their behaviour, insights into events that trigger their less regulated states, and when and how to use tools and problem solving skills.
For more information, please see: https://www.zonesofregulation.com/index.html